Robots fetch: the highly automated system at DB Schenker's warehouse in Arlandastad provides Apohem with efficient and precise workflows. Shown in the portrait picture is Anette Mühlbach, Apohem's Head of Logistics and Purchasing. The company was established in 2017 as a part of the Swedish Axel Johnson Group. Photos: Pierre Olsson, Ralf Kreuels
The rack glides towards the picking station as if moved by magic. A purple light dot appears on the far right of the top shelf. A young man takes a box of tablets from the area highlighted by the dot and carefully places it into an envelope. The light dot disappears, and the shelf recedes. Welcome to Sweden's most modern pharmacy!
It was opened in 2018 under the name Apohem – at DB Schenker's warehouse in Arlandastad near Stockholm. "Hem" is the Swedish word for "home," the message being that this is an online supplier whose customers place their orders at home by computer. The racks hold thousands of different pharmaceuticals, both over-the-counter and prescription drugs.
The latter are subject to retail price maintenance in Sweden. And with regard to over-the-counter drugs, promotional campaigns of the "buy three, pay two" kind are also prohibited by law, explains Anette Mühlbach, Head of Logistics and Purchasing at Apohem. This means fewer opportunities for suppliers to gain a competitive edge in this respect. But on another level they can: "To succeed as an online pharmacy calls for smooth and seamless logistics."
"To succeed as an online pharmacy calls for smooth and seamless logistics"
Anette Mühlbach, Head of Logistics and Purchasing, Apohem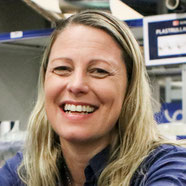 This is exactly what Apohem, established in 2017, found here in Arlandastad, where it uses the highly automated CarryPick system. The racks are not moved by magic, as it happens, but they do move in an unorthodox fashion: compact smart robots – automated guided vehicles (AGV) – drive under the racks, lift them slightly and transport them to the picking stations. This is much faster than the way it is done in conventional warehouses. And not only that: errors are virtually impossible thanks to the use of the robots.
Arlandastad is Apohem's one and only warehousing and dispatch location. DB Schenker provides the facility, including the warehouse management system, and also handles the order picking and packaging side. Anette Mühlbach and her team assign high priority to efficient packaging: "Our aim is to leave as little air as possible. All the products are registered in DB Schenker's system with their weights and dimensions. This allows the system to indicate to the employees which of our standard packaging types they should use."
Humans pack: light dots show the employees at the picking stations which items to take off the shelf. Photos: Pierre Olsson
There are other ways in which the facility helps improve efficiency: "We can strategically place items for which there is frequent demand at various locations throughout the warehouse," explains Anders Holmberg, the man responsible for the CarryPick system's implementation as Head of Business Development at DB Schenker Sweden. "And items like toothbrushes and toothpaste, which are often ordered together, can be stored close to each other."
While DB Schenker handles warehousing and order-picking, all other activities involving medications are the responsibility of the Apohem staff, who must be trained and qualified according to the Good Pharmacy Practice (GPP) guidelines as a minimum. After all, this is more than just a facility storing pharmaceuticals on shelves; it is a pharmacy in the original sense of the word, and as such it is subject to strict legal regulations.
Only qualified pharmacists are allowed to handle prescription-only products, Anette Mühlbach explains. "They are the only ones who can answer questions our customers may have about these drugs, and dispense advice on how to use them." Even so, today some of the DB Schenker employees are also allowed to carry out certain tasks, having completed training courses in accordance with GPP and with Good Distribution Practice (GDP) of medicinal products for human use.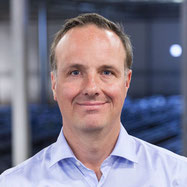 "We can strategically place items for which there is frequent demand at various locations throughout the warehouse"
Anders Holmberg, Head of Business Development, DB Schenker Sweden

The logistics for an Internet pharmacy involves more than just the smooth running of procedures inside a warehouse. "Ensuring that customers have a good shopping experience on our website and offering them various delivery options are also critical factors," says Anette Mühlbach. For example, customers based in the greater Stockholm area can place an order in the morning and have the goods delivered the same evening. And all customers may choose to have their order delivered to their doorstep or – a very popular option in northern Europe – to a nearby service point. In the latter scenario, DB Schenker also has a role to play, its DB SCHENKERparcel ombud product being one of several delivery options.
Generally speaking, online pharmacies are making inroads in Sweden. Studies conducted by the Swedish eHealth Agency, for example, have shown that medications of the kind used for tumors and disorders of the immune system are now more frequently purchased online than in traditional pharmacies.
Apohem has ambitious goals. One of them is to contribute toward making the world healthier; another, to grow and become Sweden's leading online pharmacy. With regard to the latter, Anette Mühlbach is convinced that the company made the right choice by moving to the automated warehouse in Arlandastad: "The CarryPick solution can easily be scaled up. Had we opted to build our own conventional warehouse instead, we would have grown out of it by now."
Central facility: the logistics center in Arlandastad is Apohem's one and only warehousing and dispatch location. This is where the online pharmacy warehouses thousands of different articles. Around 80 percent of all orders at www.apohem.se are placed by mobile phone. Photos: Ralf Kreuels